British Values
British Values
At Rush Green Primary School we value the diverse ethnic backgrounds of all pupils and families and undertake a variety of events and lessons to celebrate these. We have found this approach to be enriching for all parties as it teaches tolerance and respect for the differences in our community and the wider world. Underpinning all of this are a range of curriculum topics which have strong links to the British Empire.
In Year 6, pupils undertake an intense topic about World War Two and the impact that the military had in fighting for the British Empire. This is linked with the annual Poppy Day celebrations where children purchase poppies and a minute's silence is held in specially created assemblies for the school.
In Year 4, pupils study local 'heroes' who have played a huge part in raising the profile of the area. In Literacy lessons, the unit on biographies is taught through the life stories of Bobby Moore and Vera Lynn. There is a wall frieze which features significant local British historical figures which all pupils undertake lessons around. Some examples of their work on these topics is displayed alongside this.
In Year 2, there is a strong focus on the work of Florence Nightingale and how she assisted British soldiers in Scutari so they could convalesce after being injured. Florence Nightingale is seen as a 'martyr' by many children in the year group as they find her work and approach to making changes to hospitals both fascinating and inspiring.
As a whole school, we have celebrated the Olympics, with Olympic themed sports days, competitions to design sports kits and opportunities to learn about the history of Olympians in this country. Our headteacher is currently a highly successful member of Team GB and regularly competes in triathlons, which the school and governors take a keen interest in.
More recently, we celebrated the wedding of the Duke and Duchess of Cambridge and the birth of Prince George with special assemblies and themed lessons. The Golden Jubilee was a huge event for the school, with parents invited to a 'street party' event held in the playgrounds. Traditional children's party food of jelly and ice-cream, jam sandwiches and cloudy lemonade were served to all.
On a more general level, the school undertakes daily assemblies which uphold traditional values of empathy, respect and tolerance. These are also taught within formal SEAL, PSHE and RE lessons and on an informal nature throughout the school days.
Mr Michael Miss Dunne
Remembrance Day - November 2017
Lest We Forget...
At our school, we learned about the importance of those who died in the World Wars and those who continue to serve our country to protect our way of life. We learned about the significance of the poppy and what it represents, we held our own 2 minutes silence and we respectfully considered the sacrifices made by others.
In Year 6, we studied some events of the Second World War and thought about what life was like for those that went to war and those that stayed at home. We considered different points of view and wrote our own responses – imagining that close friends and family were involved. This made us think carefully about war and how terrible wars are.
In Art, we studied Banksy and used what we learned to create our own Banksy images. In other classes we made our own poppies and displayed them for all to see.
Remembrance Sunday is held in the United Kingdom and the Commonwealth of Nations as a day "to commemorate the contribution of British and Commonwealth military and civilian servicemen and women in the two World Wars and later conflicts". It is held on the second Sunday in November, the Sunday nearest to 11 November, Armistice Day, the anniversary of the end of hostilities in the First World War at 11 a.m. in 1918.
Year 6 Banksy Artwork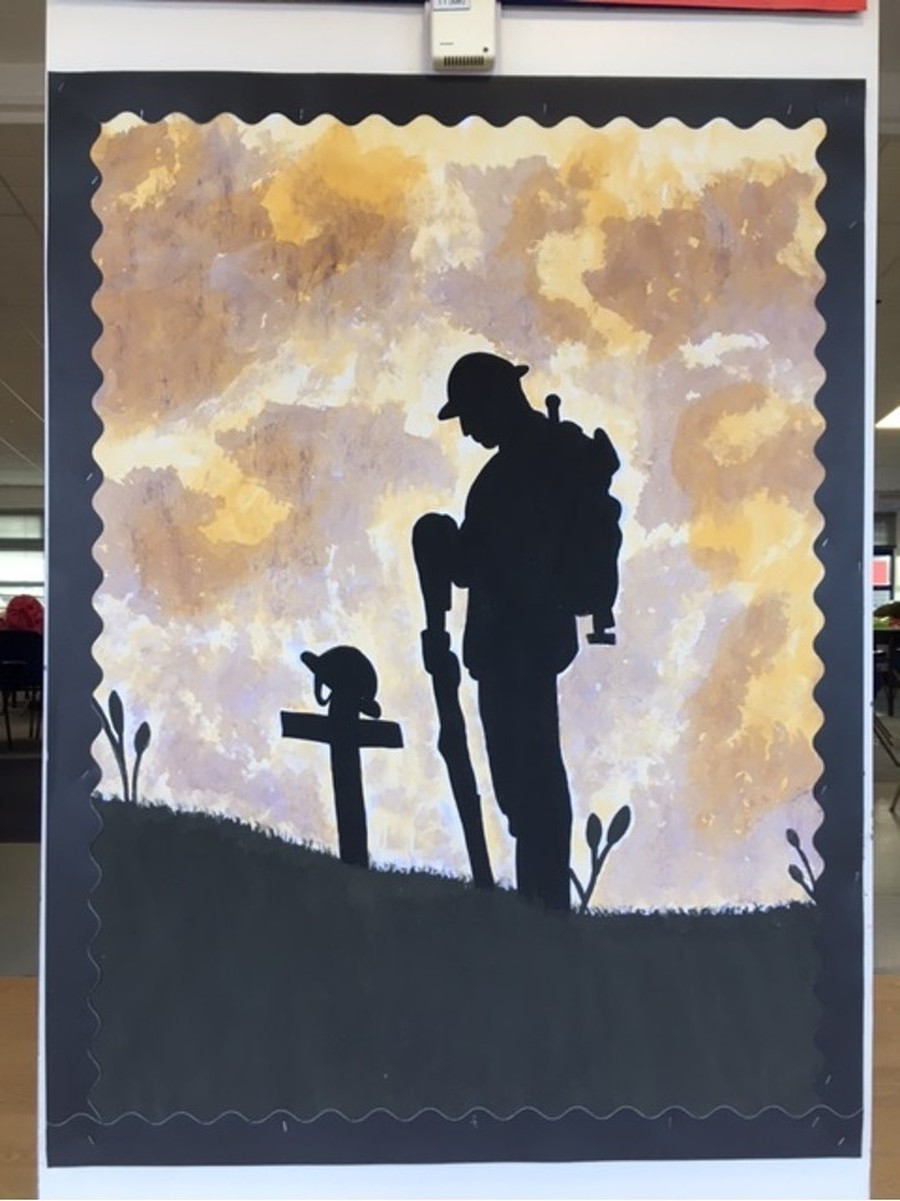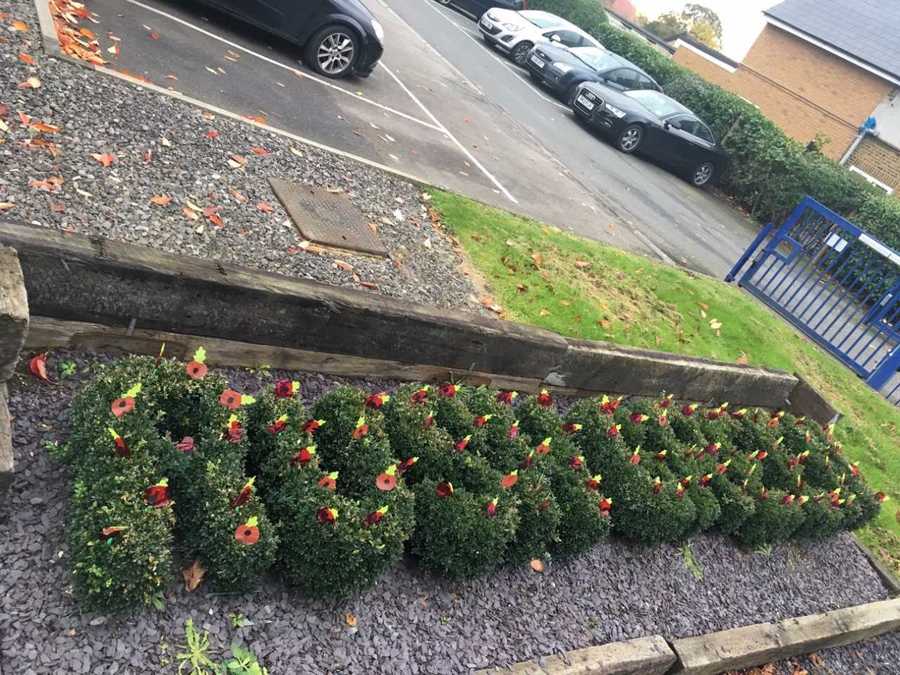 Reception Poppy Designs